We are a family owned business and live on premise.
Please call (814-642-5171) or email ([email protected]) for inquiries as our office is open daily from 9am to 9pm.
Our Atmosphere: friendly, relaxing, home-like surroundings for you to spend your leisure and visiting time in a stress free, comfortable setting. We have two Victorian homes: The Annex is pet free and the Inn is pet friendly.
All guest room/suite posted rates are based on double occupancy and are for one (1) night only. Lodging Tax, Sales Tax or Gratuities are not included in quoted rates.
Included in our rate is our full, three courses, home baked breakfast. There are always beverages, fruits and snacks offered.
Our guest rooms start at $129.00 USD per night plus lodging and sales taxes.
Our suite rate starts at $179.00 USD per night plus lodging and sales taxes.
We accept all major credit cards. You will be charged in full upon booking.
The following Holidays have a two (2) night minimum booking: May Memorial holidays, July 4th holidays, Port Allegany High School Alumni weekend, Columbus Day Weekend, Thanksgiving holidays, and Christmas holidays. Please call.
Changes and rescheduling must be made prior to your scheduled arrival. Please call us.
If there is a cancellation to your reservation date a full refund will be issued less a $20.00 processing fee. Please call us.
If you are a "No Show" on your indicated arrival date your credit card will be charged the full amount of the entire reservation with no refund given.
We are open all year round (unless we decide to take a day off and we'll get back to you in 24 hours.) Transportation arrangements for Bradford Airport (BFD) can be made for air travelers. Please inquire.
We reserve the right to change your room to an equal or better room without notification.
Check In time is 3PM to 8PM.
Late night arrivals may be accommodated by prior notification. Please let us know as soon as possible if your arrival schedule is different than you originally stated. We are waiting for you at that time. Yes, really, we are.
Check Out time is no later than 11:00 AM to allow us to prepare the rooms for the new guest arrivals.
We are a Smoke-Free Inn. Smoking and vaping is allowed outdoors only, on our covered porches, and you will be charged $450 for special cleaning (no kidding) if this policy is violated.
Well behaved visiting pets are allowed and will be given a Companion Welcome Bag at check in.
There is an additional charge of $10.00 USD per night per pet. Please review our pet policy.
We also have pet-free accommodations available in the Annex House. Please inquire when reserving your dates.
Due to the turn of the century Victorian design and age of the buildings, regretfully, we are not able to offer ADA compliant accommodations.
We accept no responsibility for weather conditions.
Based on our location in the mountains we have found that GPS satellite software does NOT provide accurate information. Please call us for directions. We don't want you lost in the Allegheny National Forest.
We have determined that Verizon is the only cell phone carrier with coverage in this area. With our free wifi you will have only texting capability.
Why leave a favorite family member at home?
Bring everyone along when you stay at The Inn on Maple Street.
Pets are welcome with their families to book our
Pet Friendly Rooms and Suites.
Please tell your owners we provide a Companion Welcome Bag with treats for snacking.
For all our other special pet guests we include a snack treat appropriate to their diet.
Please:
Owners shall control pets at all times while on the property.
Pets shall not be left alone in rooms, except during breakfast hour or dinner hour.
Pets shall not be allowed to roam the house or grounds without being leashed or without their owners.
Pets are limited to the designated yard area.
Pets shall not be permitted to lie on furniture or bedding. Please bring their favorite bedding with you.
Pets must be leashed when walked.
Owners shall clean up pet deposits when walked.
Owners shall clean paws before pet comes inside if necessary due to weather (towels will be provided).
Guests must sign a statement, agreeing to adhere to the inn's policies listed above, to be responsible for any damage done by the pet,
and to absolve the innkeepers of any liability if the pet is injured.

Although seeing-eye and service dogs fit into a special category,
we still need to be notified in advance so we can make appropriate preparations.
Additional $10 charge per night per pet.
Please call for your reservations since Pet Bookings are based on availability.
814-642-5171
Print this page for your reference.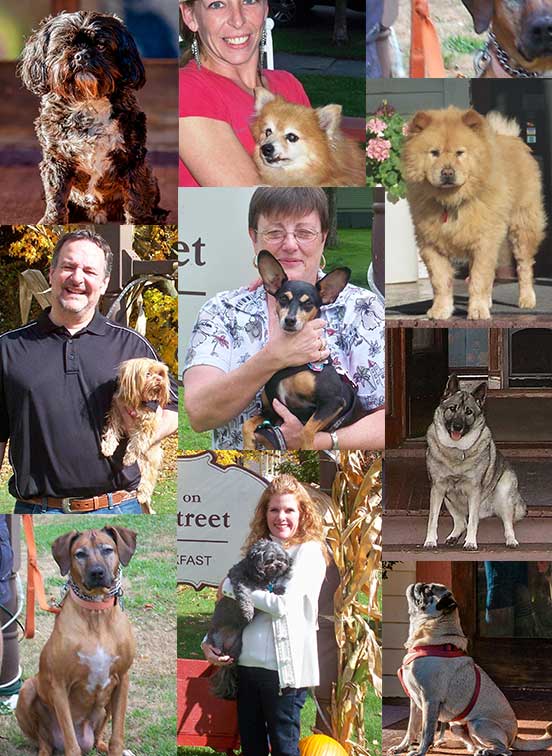 Our goal is to provide a wonderful experience in the desirable location of Port Allegany, PA. We have built our site with ADA compliance in mind and have utilized available tools such as
wave.aimorg.com
and Google Chrome's ADA compatibility diagnostic tools. Please be aware that our efforts are ongoing. If you have difficulty navigating our website or booking a room at our inn, we ask you to contact us via telephone or email and our helpful staff will be happy to assist you.
115 E. Maple Street Port Allegany, PA 16743 (814) 642-5171 Owners: Jay Roush, Sharen Roush [email protected]
We work very hard to provide an easy-to-use online experience for all guests. We believe all of our website visitors should be able to easily research online on https://theinnonmaplestreet.com/ regardless of device type and whether an individual requires assistive technology. If you have any questions or would like to report any issues related to the accessibility features of our property's website, please contact us at [email protected]
Bed and Breakfast Website Accessibility Features
This inn's website for Inn on Maple Street is designed to be fully accessible to all and is designed according to W3C Web Content Accessibility Guidelines (WCAG) 2.0 and conforms to most priority checkpoints which entail some of the following elements:
Navigation Shortcuts
Our inn's website can be navigated by using the tab key to traverse the elements of each page and by using the enter key to activate a highlighted link.
Structured, Semantic Markup
HTML heading tags are used to convey the document structure. Navigation menus are tagged as HTML maps so that the menu title can be read out, and the menu items are presented as a group.
Images Visibility
All content images include descriptive ALT attributes and all purely decorative graphics include null ALT attributes.
Standards Compliance
The site is designed to conform to Level AA compliance as specified by the Web Content Accessibility Guidelines. All pages validate as XHTML 1.0 and use structured semantic markup.
Bed and Breakfast Accessibility Features
All our rooms are located on the second floor of our turn of the century Victorian homes. Due to the design and age of the buildings regretfully, we are not able to offer ADA compliant accommodations.
Browser Help
Optimize the way you view your web browser. If you have difficulty in reading our website on your screen, you may be able to change the settings on your browser to help you improve readability and visibility of each webpage: Learn about the Accessibility features of these major Internet Browsers below: